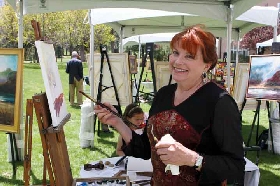 Patience Heyl
Hunter-Wolff Gallery is proud to represent the contemporary oil paintings by Patience Heyl. Patience is an artist with the heart of a teacher. After receiving her BFA from the University of Wisconsin and exploring Europe, she settled in Colorado Springs where she finds inspiration just steps from her front door. A widely-collected artist, Patience is never far from her easel either painting or instructing.
Her extensive teaching career includes working with students of all levels from middle school age to young adults in college and beyond. She is a certified Fine Arts Instructor in Wisconsin, Florida, California, and Colorado and was hand-picked to instruct at the Instituto Allende in San Miquel de Allende, Mexico. For a number of years after relocating to Colorado, she built and operated the Cheyenne Fine Arts Academy in Colorado Springs. Since 1999, she has been the Resident Artist and Instructor at the five star Broadmoor Hotel in Colorado Springs where guests can sign up for daily sessions to paint, draw, or to learn and appreciate the finer points about photography.


Patience says she has "always been inspired by light and the poetry of nature", which clearly comes across in her lush oils and vibrant watercolor paintings. Her work captures an essence that speaks volumes to her collectors clearer and more distinct than the colors on a color wheel. They are filled with life, drama and movement and have a feeling of intimate familiarity. Whether a landscape, figure or floral, Patience creates from the heart and a sense of joy.
Throughout her career as a professional artist and fabric designer, she has been the recipient of many awards and honors, and selected as the esteemed artist to represent publications for the Palmer Land Trust. An accomplished photographer as well, her stunning photography can be found in the hallways of Memorial Hospital North in Colorado Springs. Her work can also be found among private and corporate collections within the United States, Mexico, and Europe.
We invite you to become familiar with Patience's artwork at 2510 W. Colorado Avenue, Colorado Springs, CO 80904 or by calling 719-520-9494 for a private viewing of her collection. Visit www.hunterwolffgallery.com for more examples of Patience's current offerings.