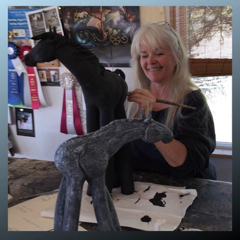 Cassandra Paul
Hunter-Wolff Gallery is pleased to introduce Colorado artist Cassandra (Sharon) Paul. With more than 256,000 horses grazing Colorado pastures, including 17,800 thoroughbreds and 106,400 quarter horses, it may not surprise anyone that there are a few horse-loving artists in Colorado! One of those artists is Cassandra Paul, a fifth generation Colorado native, who says she has been living and breathing horses for as long as she can remember. Throughout her life she has drawn, painted and sculpted horses experimenting with various media in a rainbow of colors, texture and patterns.
While working her way through a Fine Arts degree at the University of Southern Colorado, she favored sculpture and began an exploration that expresses metaphor through a stylized, often whimsical creation. Her many years on horseback, caring, loving, and rescuing horses, gave her in depth insight into understanding the equine personality and how best to express it through her art work.
Cassandra's day is filled with tasks of caring for horses yet schedules time to sculpt the creatures she loves the most. Her work is easily recognized, having developed her own signature style that emulates the spirited personality of each creature in an impressionistic manner. Her work is as much about character and the distinctive qualities of her subjects as it is about form, color and texture. Every sculpture is dynamic with its own spiritual energy while reflecting individual personality types. Many are drawn to Cassandra's sculptures for a variety reasons but we often hear "they make us smile and giggle". The whimsical attributes, like a pony balancing a slice of watermelon on its nose, can only make one smile.
Continually working on new ideas that best express these four-legged creatures' traits, whether horses, burros, mules or longhorns, Cassandra brings us closer to these furry friends and hairy creatures and maybe even helps us better understand our own humility. Cassandra welcomes commissions from horse-lovers and owners and is willing to capture the essence of a special horse in your life.
Items displayed at our gallery