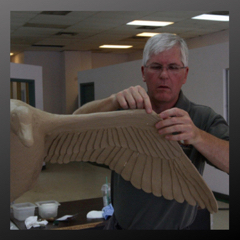 Fred Lunger
Hunter-Wolff Gallery is pleased to include Fred Lunger, a Colorado resident for 30-some years, among its stable of artists and sculptors. Fred has explored and experimented in a wide variety of art over the years and found his niche sculpturing. Sculpting challenges Fred to translate an idea bubbling in his mind to a piece of art that tells a story. Creating a sculpture provides him with the ability to create an object that by nature is still but gives the perception of life and movement. In doing so, Fred finds it most satisfying to draw the viewer in closer to interact with his work. He says, "A person can wander around it, touch it, and with my smaller sculptures, even pick it up--creating a personal connection".
Fred has participated in a number juried shows and Colorado art festivals, including Colorado Artfest at Castle Rock, Evergreen Fine Arts Festival, Art on the Rockies, and the Art Students League Summer Art Market. Among his recent awards was "Best of Show for the Winter Park Alpine Art Affair". He has also been honored by having artwork selected by the Cities of Lone Tree, Aurora and Broomfield to participate in there sculpture on loan programs.
Fred is happy to accept commissions for private collections or for public sites, such as his commission called "The Gathering Place", which includes ten life-sized, bronze geese making a landing. The sculpture is located at Alameda Square in Denver, Colorado. He was also one of three top finalists selected from 85 proposals for a public art installation at the new Adams County Government building.
Items displayed at our gallery