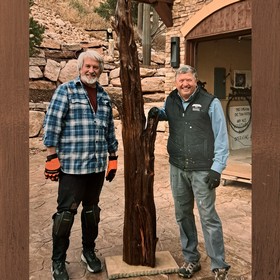 Todd Crystal
Meet our friends Todd Crystal and Jim Hannon who are long time fans of Hunter-Wolff Gallery and now creatives in the gallery! Todd, having spent 45+ years in the financial industry, and Jim, having spent 33 years in the Air Force and 12 years at USAA, decided it was time for their next chapter. They both wanted to do something meaningful for their community which turned into a creative initiative. In a collaborative effort, they took steps to protect their neighborhood by minimizing the impact of wild fires through fire mitigation projects. As they removed dead juniper trees and shrubs for the safety of their neighborhood, they wanted to preserve and repurpose some of the junipers in a way that could be admired by others. They saved the most interesting ancient junipers and found a way to preserve them as indoor or outdoor sculptures.
Junipers are very slow growing and are native to southern Colorado with an amazing ability to survive the most austere weather conditions. They can withstand high winds, droughts, deep freezes and even fire. However, they are also a good fuel source for wildfires so mitigation is important.
Todd and Jim had a mission but also saw an opportunity to bring the one-seed juniper into the home as an art piece. They gather the gnarly branches and remove the thin bark which is scaly and ashy. Each piece is finished with a protective coating and is mounted to a piece of flat stone for the base for stability. From 3' to over 8', these repurposed "one of a kind" junipers make interesting additions in the garden outdoors or used as a sculptural piece in your favorite room. Todd says he likes to incorporate these sculptural junipers alongside his collection of cactus.
Items displayed at our gallery