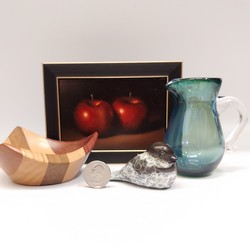 Small Art Works
Small Art and Miniature art is fine art and a specialty art, not a novelty art. Smaller art is most often extremely detailed work, exquisite in color with a strength of composition which can more than compete with larger paintings. A compositional guide for miniatures requires a gentle, no more than 1/6th scale of the actual subject. Traditionally, the size of a miniature is defined as a work that can be carried in one's hand. Small works of art usually takes as long or longer to produce as a large piece of art. A fine miniature can be magnified many times and it will still hold together as a fine work of art of much greater size. Most artists can work large, but few have the skill and discipline to work miniature. Smalls are especially appealing because they are compact and fit small spaces. They condense lots of intricate visuals within a very limited space. That richness of features makes them highly appealing to our senses. Research has shown that our gaze, and likely our touch too, is drawn to the regions of a scene or object that hold the most information. Part of our attraction to miniatures may be that they provide our sensory-seeking brains with highly concentrated dosages of tantalizing stimulation. Ideas on how to display small paintings and other miniatures:
Fill a narrow wall or some tight wall areas that could use a visual boost.
Showcase on a shelf. Small artwork is an opportunity to rearrange and refresh bookshelves with eye-catching compositions and color along with books.
Position miniatures on a tabletop or counter, in groups or as a single statement piece.
Lean tiny art against a wall or backsplash.
Create a complementary grouping of art and photos on the wall in any room or hallway.
Be sure to check artists individual pages for small works of art as well. You will find more small art on the artist's webpage for George Bodde, Marlene Kort, Lorraine Watry, Liese Chavez, Fred Lunger, Dottie Boscamp, Clifford Bailey, Julie Kirkland and Kathy Beekman.
View Miniature Art