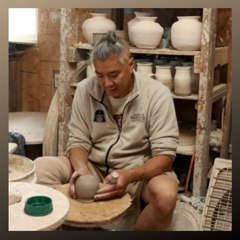 Mark Wong
Since graduating from Pomona College in 1990 with a Bachelor of Arts degree, Mark Wong has been making his unique, hand-thrown clay vessels. He lives and works near Colorado Springs, Colorado where he specializes in raku ware and is represented by Hunter-Wolff Gallery.
In the pursuit of his specialty, Wong has developed his own clays and glazes to complement each other and work with his throwing style. The thin walls of his vessels radiate the heat more rapidly after the firing resulting in a wider range of color rarely seen in raku.
Mark Wong uses a process to fire his raku that requires removing the ware from the kiln at the moment the glaze has melted. It is transferred to another container, referred to as a reduction chamber, full of organic materials such as leaves, paper, wood shavings, horsehair, or other materials that combust easily. The chamber is then closed to restrict the amount of air available to the materials and this atmosphere brings out the wide-range of colors. Wong's raku ware is often chosen for its vibrant copper colors, violet, blue and greens. Each piece is unique as a result of the glazing process and forms.
We are pleased to offer platters and vessels in a number of shapes, sizes, colors that range from $30 up to $600. Custom pieces are an option for those special places in your home or office.
Items displayed at our gallery