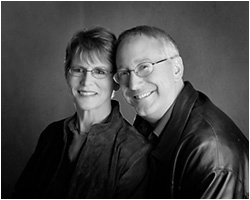 Karen Pierce & Marc Jenesel
Hunter-Wolff Gallery offers the unique artistry by Colorado Springs husband and wife team Marc Jenesel and Karen Pierce. Since 2000, they have been collaborating to deliver beautiful sculptural vessels using clay, fiber, metal, stone and other natural materials.
With decades of experience in visual media, Marc is a graphic artist and animator but dedicates most of his time to creating raku pottery. With a science background and experience, he is able to obtain the range of textures and glaze colors through chemistry and post-firing reduction. Much of his education is in the sciences allowing art and science to run parallel courses. He says, "a well-rounded education in the arts requires some study of the sciences". His results are formulated for rich color and texture before being handed off to Karen. Karen then applies her basket weaving techniques and materials from around the world in unconventional ways to create one-of-a-kind pieces. She weaves free hand without molds and colors the fibers with dye or paint. Her contact with many cultures through extensive travel and residence abroad influence the themes of her work. Karen's skill level has allowed her to teach basketry and showcase her work in juried fiber shows. Together, they have won awards at regional, national and international juried exhibitions. Their images and articles have been published in The Crafts Report, Shuttle, Spindle and Dyepot, and 500 Baskets.
Items displayed at our gallery