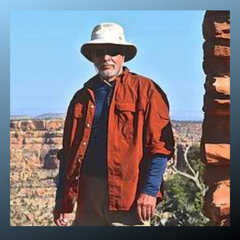 Brian Bystedt
Hunter-Wolff Gallery is pleased to offer the unique metal art by Colorado artist Brian Bystedt. Each piece is created using 3/16" steel with a rusted patina finish, welded hangers and stand-offs. His work represents the prehistoric rock art designs (petroglyphs) from the American Southwest and contemporary designs (glyphs) from around the world. He says two words primarily define the creation of his metal art: coalescence and serendipity. "Coalescence in the sense that many elements of his life and interests seemed to culminate at this juncture in time and serendipity in the sense of how many necessary things came together at the same time to make it all possible."
Archaeology, anthropology, geology, photography, exploring, art and a fundamental inquisitiveness about man's journey all played a critical part in bringing this artwork forward in time enabling Brian to translate it into the museum-quality metal wall art for collectors to enjoy for their lifetime and generations to come.
In searching for and photographing petroglyphs over the years, Brian discovered that there were many designs that depicted common observations such as snakes, birds, lizards, etc. Of primary interest to him were the abstract designs as well as common things portrayed artistically. What he has captured and brought forward in time are rock art designs: the emergence of artistic expression, the beginnings of cultures such as the Jornada Mogollon Cultures of New Mexico and the Hohokam Culture of Arizona.
It is his intent and goal to render prehistoric designs as accurately as possible while adjusting for various factors to offer unique wall art as well as meet the decorating interests and desires of today. Through Hunter-Wolff Gallery collectors can request specific size requirements and hang their unique metal art indoors or outdoors.
Items displayed at our gallery