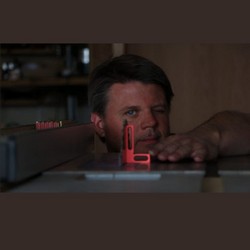 Brian Benham
Hunter-Wolff Gallery is pleased to offer fine furniture by a third generation craftsman like Brian Benham to its stable of fine artists. Brian has been building things since he was very young. As a kid he had no interest in watching Saturday morning cartoons but rarely missed an episode of This Old House, Norm Abram in The New Yankee Workshop, and Roy Underhill of The Woodwright's Shop. He watched and learned soaking up their knowledge like a sponge.
By age 13 he worked a summer job in a fabrication shop for Hamilton Construction, as the cleanup kid. His hard work ethic earned him the respect of the old grizzled welders who took the time to teach him to read plans, layout a project, and develop skills needed to create using steel or wood. Brian worked most summers learning from others at Hamilton Construction and full time after graduating from high school.
He later cut his teeth in sales, selling a variety of building materials, specializing in floorcoverings. With his construction background and new sales skills he moved into project management for a remodeling company. For nearly a decade he designed and managed a variety of remodel and new construction projects, from residential to commercial spaces.
Brian's passion for building things escalated as he reached adulthood. It was that passion and the love for the craft that propelled him to start his own furniture business. In 2010 he had taken his passion for design and building custom furniture and turned it into a sucessful business. He continues to push his skill into working with new techniques, new materials, and more complicated designs. Some call him a master craftsman, but for Brian the journey towards mastering a craft never ends. There is always more to learn and more things to dream up and build. Take a minute to hear Brian talk about his collections at Hunter-Wolff Gallery. If you love his clocks, check out this video about his process.
Items displayed at our gallery