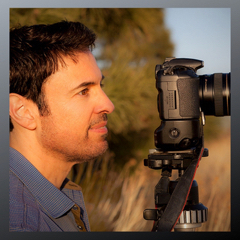 Joseph Thomas
Ansel Adams described printmaking in musical terms: The negative is the score, and the print the performance. F­ew photographers understand this analogy better than classically trained musician/composer turned photographer Joseph Thomas. While studying composition at the University of Northern Colorado School of Music, a burgeoning interest in photography was nurtured by frequent weekend forays into Colorado's forests and national parks. When Thomas wasn't at the piano writing, he was studying the books of Ansel Adams, Galen Rowell and other photography greats. "As a musician, you're spending many hours each day locked in a small room practicing or composing. Going out into nature with a camera was a way of counterbalancing the cabin fever and reconnecting with wild places." Upon graduating, Thomas focused most of his time on a successful musical career. In addition to touring internationally with his own jazz ensemble, Thomas became an affiliate professor of music at Metropolitan State University of Denver. Yet he never stopped nurturing his other passion: photographing the natural landscape.
After fifteen years of creating a substantial body of photographic work for nothing more than his own enjoyment, Thomas began submitting his images and was delighted to find his work featured in such prestigious publications as Outdoor Photographer and National Geographic. Further, in 2014, the conservation groups Defenders of Wildlife and WildEarth Guardians began using his work extensively to galvanize support and illustrate their publications.
While being published in magazines was gratifying for Thomas, nothing compared to the satisfaction of producing a large museum-quality print. "The print is the ultimate expression of a photographer's art." explains Thomas. "It is the result of a convergence between technical excellence and artistic vision." Whether depicting a grand vista or an intimate landscape, Thomas uses his artistic vision to create stirring images that capture the essence of a scene and inspire a sense of awe. His work is not urban, edgy, cynical, banal, or dark. While these genres may be considered trendy in today's art world, Thomas is a true believer in the beauty of the natural landscape. His flair for exceptional compositions of light, land, form, pattern, and texture convey both the gentle serenity and the enormous power of Colorado's vast wilderness. Joseph Thomas is willing to get up early, to stay out late, to go over the next ridge…to go the extra mile for photographs that stand out from the overwhelming morass of visual clutter that inundates us every day.
Items displayed at our gallery