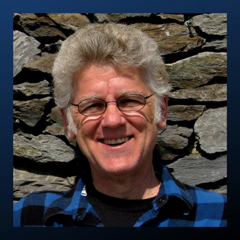 Steve King
Hunter-Wolff Gallery is pleased to represent Steve King who has settled in Hudson Wisconsin after living and working overseas for 35 years. He taught Art and Humanities in Germany, Spain, Italy, and Japan as well as Art at Quantico Marine Base in Virginia.
When teaching in Virginia he was asked by the National Geographic Society to organize an art exhibition in their headquarters building in Washington D.C. In addition to assorted teaching awards, this was a well-deserved honor. That exhibit resulted in a spotlight article about his teachings, and can be found in the January 2000 issue of National Geographic.
Currently Steve is working diligently creating amazing stained-glass artwork using techniques developed by Louis Comfort Tiffany. He says, "I incorporate natural materials, such as bone fragments, shells, agates and fossils with a variety of glass in my work. My artwork shows a vibrant exploration of how glass can be designed to enrich the dramatic inherent beauty in nature."
Steve enjoys working on his designs often inspired by music. Much like classical music combining fortissimo vigor with gentle glissandos sliding towards resolution; visual continuity and harmony are on display in Steve's art. In addition to his vertical works of art which are easily hung in windows, on walls or to separate living space, he makes glass designs to work with various types of metal-based furniture. This includes the level surfaces of tables and stand-alone wine racks.
Many of his works can be found in private homes or commerical sites like hospitals and health care facilities. Steve especially enjoys working on large commissions to satisfy specific requirements and provide patrons with statement pieces they might otherwise never find.
Items displayed at our gallery