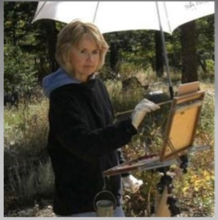 Lori Hight
Hunter-Wolff Gallery is pleased to represent Lori Hight, a native of Colorado, who experienced the breathtaking landscapes of the west her entire life and is inspired by its undisturbed, unpredictable beauty. The visual experiences of growing up in Colorado have undoubtedly influenced much of her work. During her youth she travelled throughout the Rocky Mountains, where much of her inspiration comes from today. A Fine Arts graduate from Colorado State University, Lori began a career in graphic design. Although a stepping-stone to her art career, she rediscovered her love for the natural world and pursued her passion to paint the compelling rugged topography of the mountains and plateaus of western Colorado where she can experience a complex pattern of changing weather and visually exciting landscapes.
When the weather permits, she enjoys painting en plein air to accurately capture the moods created by weather, light, and color, and how light behaves in different seasons and times of the day. She says she is able to convey the feeling of the place she paints, because all her senses are fully engaged, every sense receptive to the magical nuances of her chosen location. Her paintings become a personal response to the subject at hand and gives collectors a deeper understanding of the places she paints with a looser, more impressionistic brushwork.
"I believe there is a longing in most of us to connect to the natural world, those places that contrast remarkably with concrete, chaos and combustible engines. We can travel to them in person or in spirit, for a day or a minute. No matter how we get there or for how long we stay, these spectacular settings rarely fail to provide a calming elixir for the soul. In my paintings, I strive to capture that moment of beauty, instant as unique and fleeting as a shaft of light yet as timeless as a canyon. As you view my paintings, I hope you are reminded of a special place that once gave you respite from today's high-tech, fast-paced urban environment."
Having traveled extensively, Lori also enjoys creating paintings of landscapes, architecture, animals, and gardens inspired by some of her favorite destinations like France and Hawaii. Collectors find her work to be soothing, peaceful and engaging.
Items displayed at our gallery