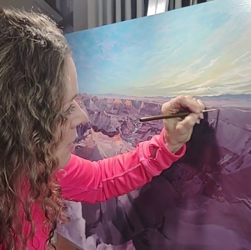 Lisa Hewett
Hunter-Wolff Gallery is pleased to represent Colorado artist Lisa Hewett. Visual Artist. Backcountry Explorer. Cultivator of Potential. Lisa's vision and visual messages inspire and encourage the viewer, a gift that not only allows her to create contemporary, representational art, but a gift that stirs emotions.
Raised in the heart of the midwest in the United States, Lisa says she, "has never met a stranger in her life". This served her well during years of teaching Visual Arts to youth and adults, after earning her BA in Fine Art and Education at the University of Tulsa. Lisa has been named one of Colorado's top 60 artists. Her award-winning artwork has been exhibited in Oklahoma, Colorado, Wyoming, and national and international virtual exhibitions, including National Oil & Acrylic Painters' Society, American Women Artists, International Society of Acrylic Painters, and in collections beyond Colorado's borders.
When not adventuring outdoors with her Studio Puppy in pursuit of her next painting, "doing life" with the young women she mentors, or making memories with loved ones, Lisa is in her studio breathing life into people, animals, and her beloved landscapes using a variety of media.
Items displayed at our gallery